Nuage V1.7 released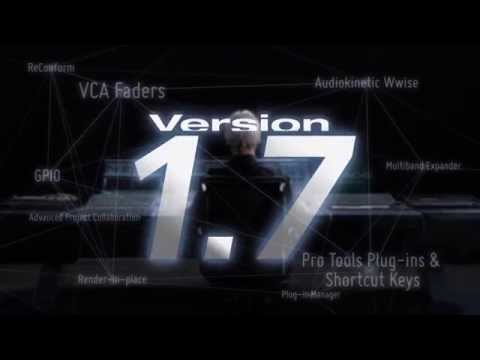 Yamaha hat Anfang Juli eine neue Nuage Version veröffentlicht. Konkret handelt es sich dabei um eine neue Firmware V1.6 mit neuen Tools V1.7. Die Informationen sind leider bislang nur auf Englisch verfügbar. Hier gelangen Sie zur Übersicht der neuen Features und hier zu den Downloads.
"Nuage V1.7 New Features:
1. Support for Nuendo 7 and its Improved Workflow
At the heart of the Nuage system is Steinberg Nuendo, an audio post production DAW that is a favorite with sound designers, mixing/recording engineers, and editors for its blazing editing speed, efficiency enhancing convenience, unrivalled sonic quality, and rock-solid stability.
The latest version of Nuendo adds VCA faders, support for game audio middleware, and other advanced features that provided an enhanced workflow.
Game Audio Connect: Fast, easy transfer of audio assets from Nuendo 7 to Audiokinetic Wwise middleware
Integrated ReConforming solution: Automatic re-editing of audio projects according to picture changes
Advanced project collaboration: Audio track import from other Nuendo projects from within an open Nuendo project
VCA faders for audio-post workflows: VCA fader automation using Nuendo routing operation patterns (independently from linked groups)
Render in place / render export: Allows any selected audio files to be rendered to a new audio track, and any selected audio files to be exported to a disk destination, including numerous individual options such as naming conventions
New plug-ins, updated plug-ins, and new plug-in manager: Quadrafuzz V2, Multiband Expander, Multiband Envelope Shaper, and VST Bass Amp
2. Speed and Convenience – Enhanced operation
Nuage has always been more than just a DAW controller because of its deep integration with high-level DAW software, but Nuage Version 1.7 goes even further with improved access to a variety of important functions. The following are a few of the improvements included in the Version 1.7 update that contribute to greater control and efficiency.
Automation mode setup and switching from the Nuage Master Channel Control page.
Multi Function Knob click level and click pan can be changed from the Nuage Master Control Room and Cue pages. Plug-ins can be inserted in the Control Room buses.
Section Control and Channel View Control can be customized. (for VCA assignments, etc.)
Support for the JL Cooper eBOX and eBOX GPI8 GPI interfaces. Remotely controllable from the Nuage Master.
3. Improved Avid Pro Tools Control
Nuage can switch between as many as three connected DAWs. Of course those DAWs can be Steinberg Nuendo or Cubase, but with the dedicated NUAGE PT Bridge driver Avid Pro Tools installations can be used as well. In response to requests from Pro Tools users, Nuage Version 1.7 expands the functionality of the NUAGE PT Bridge driver for even greater control and convenience.
Using the Plug-in Panel shown on the monitor display as a guide, the Nuage Fader Multi Function Knobs can be used for Pro Tools plug-in control.
The twelve Nuage Master User Assignable Buttons can be assigned to Pro Tools shortcut keys, allowing the user to use familiar shortcuts directly from the Nuage system.
* Nuage Version 1.7 supports Pro Tools 10~12 and Pro Tools HD 10~12 (Mac versions only).
* Nuendo or Cubase must always be assigned as DAW A. This means that a maximum of two Pro Tools instances can be connected to a Nuage system.
* Refer to the Nuage user's manual for information on the Pro Tools parameters that can be controlled from Nuage."