Bitwig Studio is here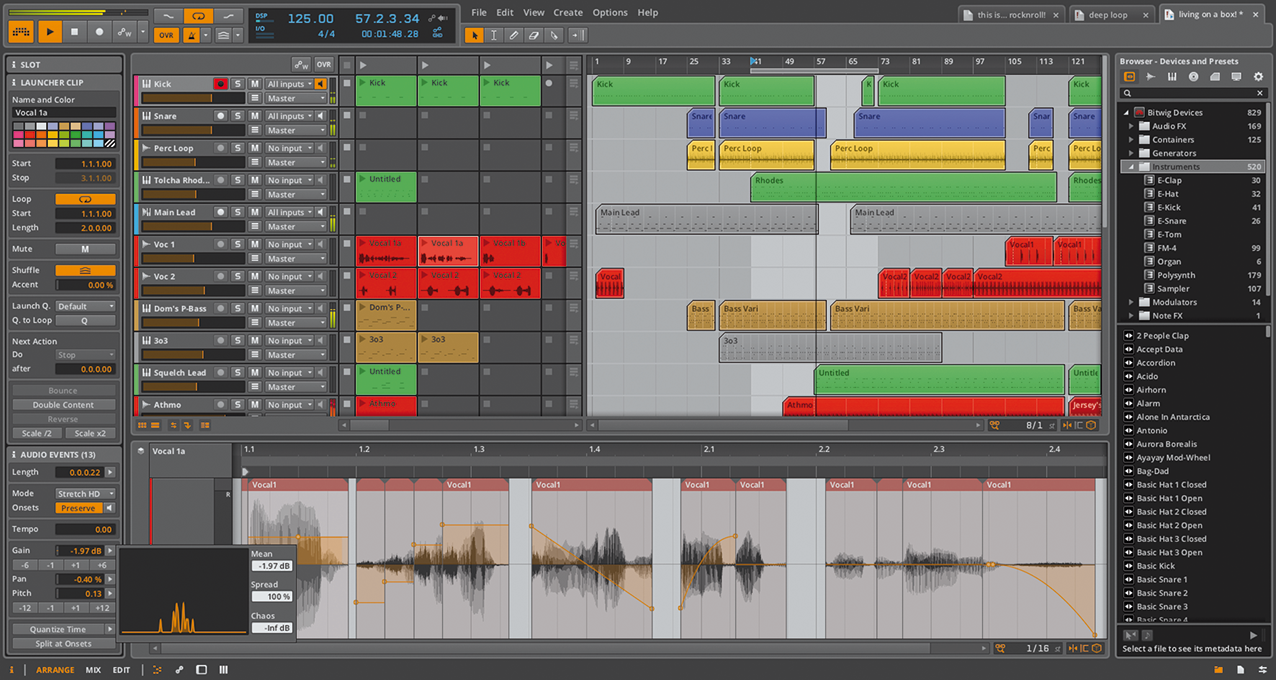 It´s finally done. Months ago Bitwig was announced and will now be released on the 26th. And you can get it here.
"Bitwig is an international music software company based in Berlin. The company was founded in 2009 by four music enthusiasts with extensive experience in the music technology industry and a strong vision about new cutting-edge methods of music production, live performance and collaboration. Bitwig Studio is the first product to be released by Bitwig."
Bitwig Studio was created from former Ableton employees, so there is no wonder why it´s kinda looking similar. But there should be more in depth differences, especially the modular system (which reminds me of Max for Live or Reaktor). One really interesting point is it will works on Linux!
Until now I can only speak about what I heard, but can´t wait to lay my hands on this and see what´s really the thing. If it´s like everything I heared in rumors, I think it has the potential to get nearby the great old ones and will have at least the same status compared to Ableton as Studio One has in relation to Pro Tools and Cubase. You will hear some more about Bitwig for sure, at least from me as soon as I can test it.
And the these are the key features:
Cross-platform DAW (Windows, Mac OS X, Linux)
Intuitive non-linear sequencing for the studio and beyond
Full multi-core and multi-processor support
VST 2.4 support with built-in 32/64-bit bridging and plug-in crash protection
Proprietary time-stretching technology
Multi-display support for up to 3 displays
Tabbed document interface for multiple projects open at once with drag-and-drop between them
Over 50 included devices, including conventional Instruments (Polysynth, FM-4, Organ, Sampler and analog-style Drum Modules) and FX (Delays, Equalizers, Compressors), as well as Container devices (to build parallel instrument or effect chains), Note FX, and Modulator devices (additional controllers like LFOs and step sequencers for modulating any other device).
Unified Modulation System: Use Macro Controls, Note Expressions, LFOs, and Envelope Followers to modulate any device parameter, including nested internal devices and even VST plug-ins
Advanced layered editing
Note and Audio expressions, including per-note Micro-Pitch Control
Dynamic Object Inspector: Select multiple notes or events and edit them together with the interactive parameter histogram, easily adding variations as you go
Automatic sample slicing to both Sampler or Drum Machine
Multiple audio events per clip: Automatically cut up samples and rearrange them on the fly in the Detail Editor
Dedicated Device Panel Mappings with color-coded knobs and buttons for an overview at a glance
Support for various MIDI controllers out of the box
Sound Content: Over one thousand presets and sounds, 3 GB of factory content: Drum Machines (808, 909… Percussion), Acoustic Drums, multi-sampled instruments like Wurlitzer, Rhodes, Vibraphone, Marimba, Acoustic and Electric Bass, Sampled Drum and Instrument loops, Various Sound FX, and additional partner content
Open Controller API: Create and customize functionality for virtually any MIDI controller, including scripting access to nearly every feature of BITWIG STUDIO