Merging Tech. stellt neue Immersive- und Object-Based-Audio-Tools mit Pyramix 11.1 auf der IBC vor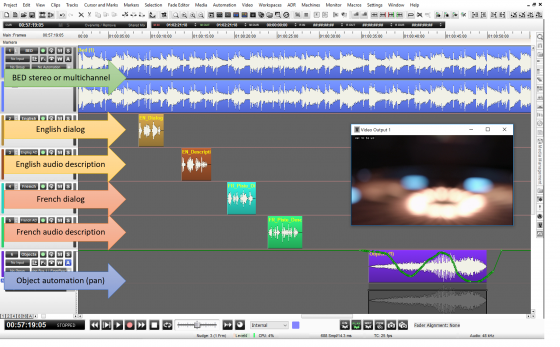 Rechtzeitig zur IBC in Amsterdam gibt es spannende Neuigkeiten in Sachen Object-Based- und Immersive-Audio im Bereich Broadcast von Merging Technologies. Pyramix 11.1 ist die erste DAW mit  einem vollständigen Worklow zur Erstellung von Masterfiles mit Objekt basierten Meta Daten nach dem Audio Definition Model oder MPEG-H 3D Audio.
Vorgeführt werden diese neuen und aufregenden Features dieses Wochende auf der IBC. Schaut hierfür gerne bei Mergings Stand 8.E96, oder vom Frauenhofer 8.B80 vorbei.
Bei Interesse vereinbart gerne ein Gesprächstermin für die IBC mit unserem Produktspezialisten Thomas Römann, um mehr über die neuen Features von Pyramix 10 zu erfahren.
Kontakt:
eMail: systemtechnik@digitalaudioservice.de
Tel.: 040 / 4711348 – 20
Folgend noch der offizielle und ausführliche Press-Release von Merging Tech. zu den neuen Entwicklungen:
Merging Technologies decided to complete its immersive audio tool set for broadcasters by developing the Audio Definition Module (ADM ITU-R BS.2076) and MPEGH (by Fraunhofer IIS) export, after attending the first EBU conference on OBA in Geneva in May 2017 (https://tech.ebu.ch/oba2017). Pyramix 10 introduced a new bus structure (7.1, 9.1, 13.1, 22.2 etc.) including a 3D panner and the appropriate monitoring section, and now Pyramix 11.1 is the first DAW with a complete workflow to generate master files with Object-Based Audio (OBA) metadata according to the Audio Definition Model (ADM) or MPEG-H 3D audio.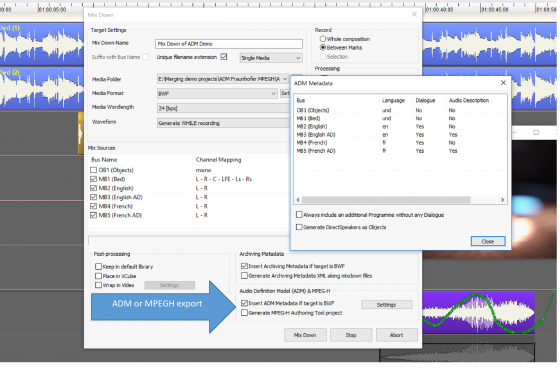 The ADM development has been done with the cooperation of Matthieu Parmentier, the Coordinator of R&D Projects at France TV and the chairman of the EBU Audio Systems Group. Mathieu was already using Pyramix 10 and its 3D immersive tools in his workflow and could give frequent feedback to Merging's engineering team. Pyramix 11 now completes the former OBA workflow, primarily designed for Dolby Atmos mixing for Film or Immersive Live performance, into a comprehensive workflow for TV production with the addition of multi-language support and ADM format export. Matthieu Parmentier commented; "OBA is the future of sound for broadcasters, to address multiple platforms with the highest quality experience. To achieve OBA Master files, the Audio Definition Model metadata inserted within Broadcast Wave Files constitutes a flexible and free solution to address the next generation of encoders."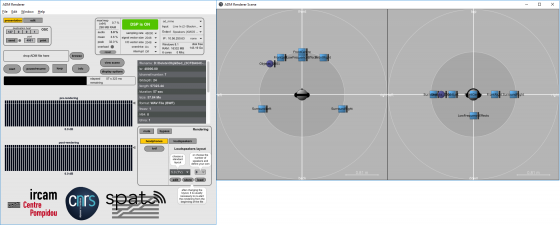 ADM export interoperability was verified on the IRCAM "ADMix renderer tool" developed within the ORPHEUS project (https://orpheus-audio.eu), a Horizon 2020 research project funded by the European Union, while Fraunhofer IIS verified our MPEG-H metadata export on their authoring tool. As a result of the cooperative development with the Fraunhofer team, a comprehensive MPEG-H workflow is available by exporting Pyramix 11 OBA projects directly to the Fraunhofer MPEG-H Authoring Tool.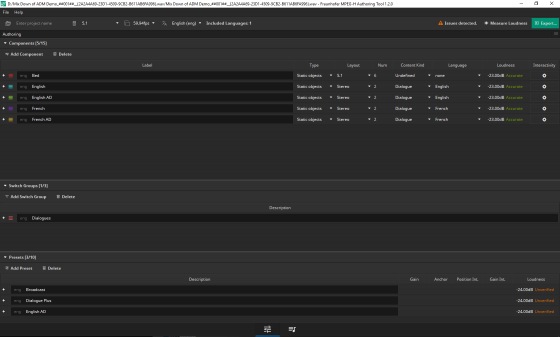 This tool is a stand-alone application developed by Fraunhofer IIS for authoring and monitoring of MPEG-H Audio content. It provides monitoring and rendering of channels, objects and higher-order ambisonics content including the import and export of MPEG-H metadata. The MPEG-H Authoring Tool is already in use within the South Korean terrestrial 4K TV broadcast service.
Merging Technologies shows again an upfront commitment to new technologies and new production paths. Complementing with its RAVENNA/AES67 converter range it provides a perfect integration in an OBA workflow.
Demonstrations of this exciting technology can be seen at IBC on Merging Technologies' stand 8.E96 and on Fraunhofer's at 8.B80